Split Impression
Each place on the Croatian coast is in some way similar to the next, but it can still be very unique. We all go to those "favorite tourist destinations" that are written about everywhere and shout at us from the windows. There are only a few people who have never been to the Makarska Riviera, but what about the center of the whole region?
Split - the ancient Spalatum, was also loved by Emperor Diocletian, who had his palace built right on the seafront. Diocletian and his descendants no longer live here and Split is now a modern Croatian city. Hajduk Split is proof of that.
If you are interested in the Balkans, you can find us also here.
After a year of traveling break, my answer to the question "Are we going somewhere?" ... was joyful Hajdeeeee! For months, during the daily rush around Bratislava's main station, I peeked at the train with the destination "Split" and quietly envied the tourists with suitcases waiting for it. Therefore, when choosing the transport, it was immediately clear to me thatit would be this train. Finding accommodation in this city was not so problematic. So the next vacation has been resolved.
So our trip to sunny Split began one late evening at Bratislava's main station. We were anxiously waiting for our train to come to us. With a delay of almost 2 hours, a locomotive with the inscription of our transport company finally began to appear on the first track. The yellow-black train was already braking and in a few seconds we didn't have a chance to see the locomotive, but not the end of the train. He didn't have an end. So we had to find our place in the sleeping car by passing several carriages. We finally found them almost at the end of the train. Our fellow passengers were very nice and talkative Czech boys. We didn't even settle down and moved on to another beautiful holiday and a lot of new experiences.
Traveling by train is quite nice. The most beautiful is the human factor. When you travel short distances, everyone takes care of themselves. However, when you have the whole night and half a day of traveling ahead of you, you are naturally trying to socialize. The train rolled on the rutted rails and we wasted time before going to bed with happy debates. After midnight we pushed across the border crossing Gyékényes - Koprivnica .... and we were already in Croatia. I discovered beautiful untouched mountains, clear lakes, rivers and picturesque settlements.
In Ogulin, our long-distance train was divided into 2 parts. One part of the set continued to Rijeka and the other part to Split. In both cities, it is possible to change to bus connections, which are further distributed to other holiday destinations. We only had to travel to "kraj hrvatskih željeznica"(end of Croatian railways). This is the southernmost point of the railways in the republic.
Our train wandered around nooks and crannies that you have no opportunity to see on another occasion. Sometimes a person felt as if he was walking aimlessly and leading us through natural nooks that man had never seen. The only clue that made us know the direction was right was the one we were rolling on. We passed through forgotten forests, alpine villages, until we emerged on the tops of rocks. Drought and rocks were a good sign that we were close. The locomotive trumpeted merrily and after about 15 hours of traveling we entered the second largest city in the country.
Passing through the tunnel, the number of curious tourists in the corridor increased. Everyone wanted to capture the view of the whole of Split and the surrounding area from a height. Our yellow dad stopped ceremoniously at a semi-detached kolodvor (railway station) with 2 platforms, which looked like after the raid. We all jumped off the train and scattered around. Some chose to look for their bus and others, taking their suitcases, headed towards their accommodations.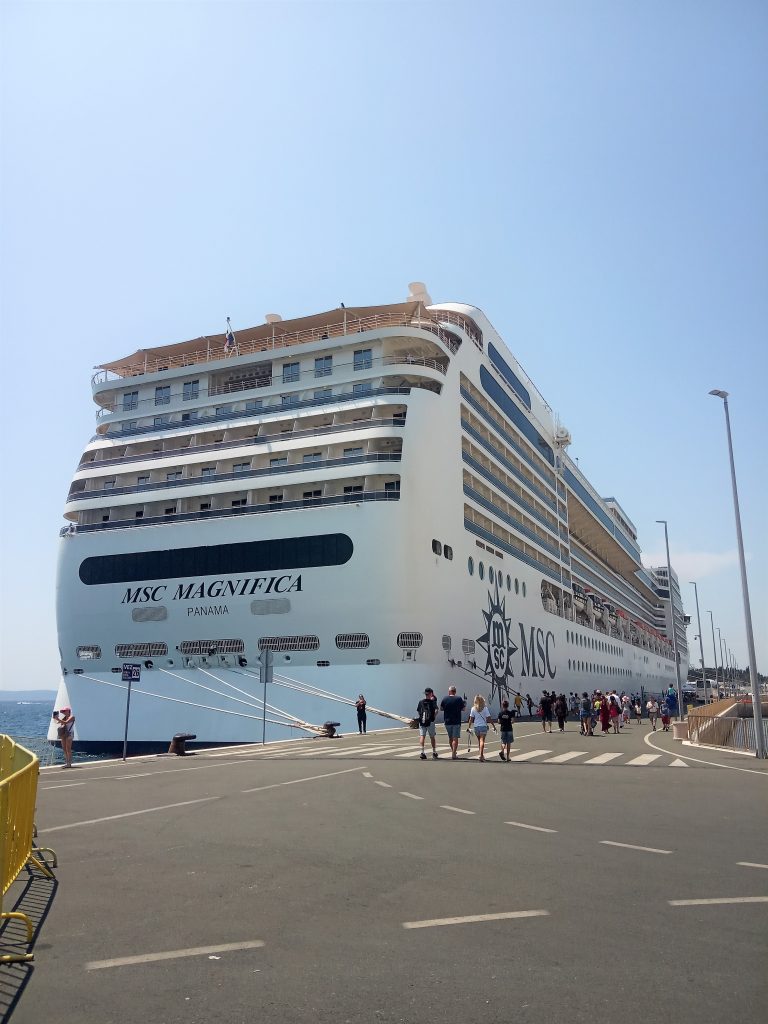 Split is a lively city full of traffic. Directly opposite the train stationyou will find port and next to the bus station. Ferries will take you from here to all the surrounding islands, there are good connections with other major cities in Croatia and I must not miss the ferry to Italy. The port of Split is really a very busy place and in the summer season it is full of running tourists until late.
On the right side of the station you have the opportunity to see the city center. The center is about 5-7 minutes walk between the stalls. However, you do not avoid gužva(crush). After a long journey, we were glad that the gužva was moving in the opposite direction from ours. We took our luggage and headed for our kuća (house). Our apartment house was located in the middle of villas from the 19th century not far from the center.
After a moment of wandering, we discovered the house and Mrs. Anna confirmed that we were at the right address in a few minutes. "Poštovanje, imamo rezervaciju za vašu kuću" (Hello, we have a reservation in your villa) "Dođite!" (Come in) We booked a double apartment,which was a detached building next to a small garden full of pomodorins (tomatoes). Behind the apartment there was a small space for a table and 2 chairs, which came in handy on hot summer evenings.The whole area was complemented by fragrant lavanda(lavenders).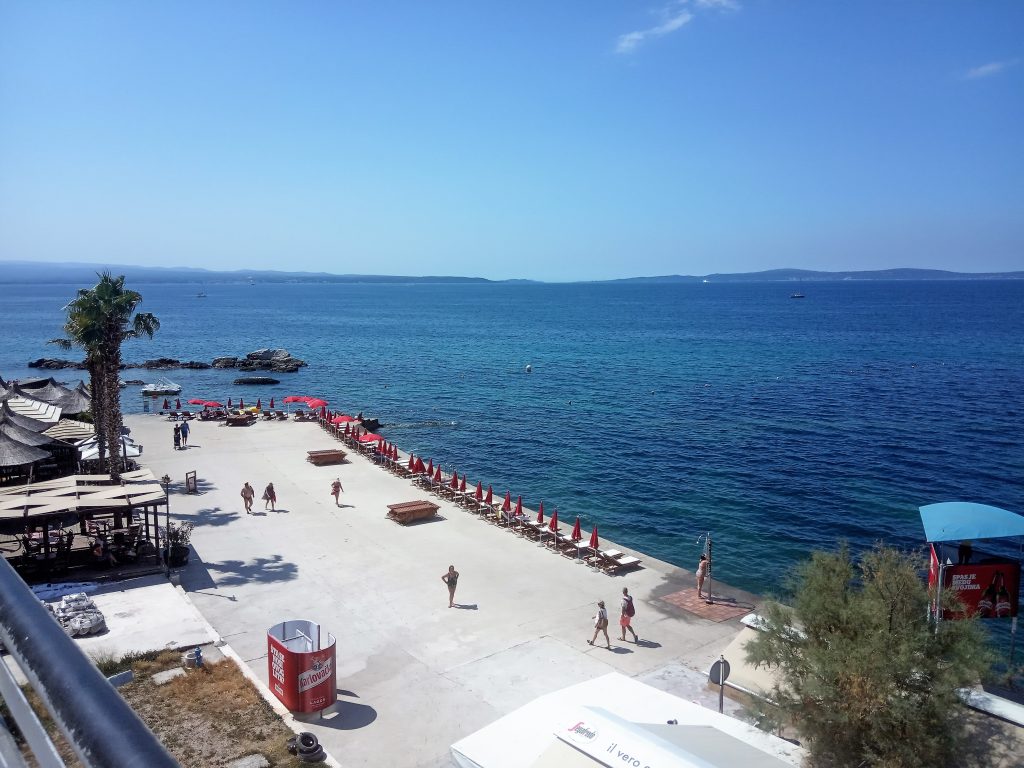 When it is outside vrućina (heat), you do not unpack on arrival. Just put baggages somewhere and run to the nearest beachSince the apartment was located between Bačvice and Firule, we were closest to Bačvice beach. "Morate ići samo tu dolje" (You only have to go down here) Anna's instructions sounded. I was hoping it would be right and it wouldn't be something like "Ideš pravo sve do suhe palme i poslije skreneš lijevo" (You go straight up to a dry palm tree and then you turn left) as it has already happened to me. Anna was already trained by tourists and knew that the orientation according to dry palm trees would not tell them much. So we went down Viška Street. At its end were a few buffets with the Sarajevo ćevap, who regularly yawned with emptiness and a kind of concrete building from the former regime. It had a beautiful sea view. The beach was just below this building. This beach is probably the most popular in the whole city.
The low steps take you directly to the ice cream parlor, there are a number of restaurants on the left and a beach on the right. The local beach is sandy. It is artificially created and that is why it is also suitable for children. For children, there were also inflatable attractions right on the sea. The whole of Split and even tourists gathered on this beach. The locals played picigin here until dark - a game in the water with a small ball. This game is Croatian unique. We spent the first evening in Split on this beach and began to soak up the local atmosphere and life and enjoy the Mediterranean rays of the sun. Sea water has a much more impressive effect after a long time. We left Split beach quite late that evening.
The next morning we went to see Diocletian. We wanted to see what taste this emperor had. We broke through the standard Split gužva, around the port until the crowd led us to the palace itself. Don't imagine it as a palace in the true sense of the word. Today, mainly its perimeter walls are preserved, in the middle of which the city continued to grow in the past. The historical center is thus surrounded by Diocletian's palace. Those who do not know about it will probably overlook it and consider it part of the center. In front of the palace is a "riva"(promenade)with palm trees. Today there are konoba(Dalmatian restaurantand a few boats moored by the sea. In the past, the water reached the palace.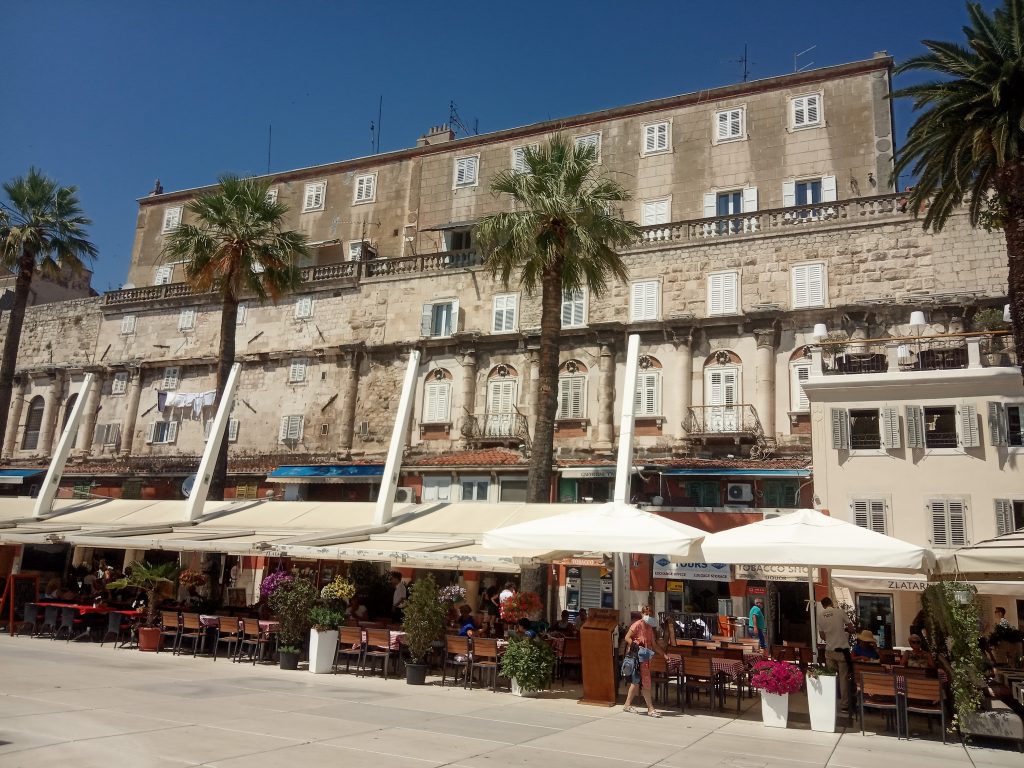 Archaeological work is still going on here. If you enter the city from the riva, stop at the stalls, because in their neighborhood is the entranceDioklecijanovi podrumiunderground palace, which are in their original condition since the 3rd century. The spirit of antiquity breathes on you here. An interesting example is the preserved sewerage.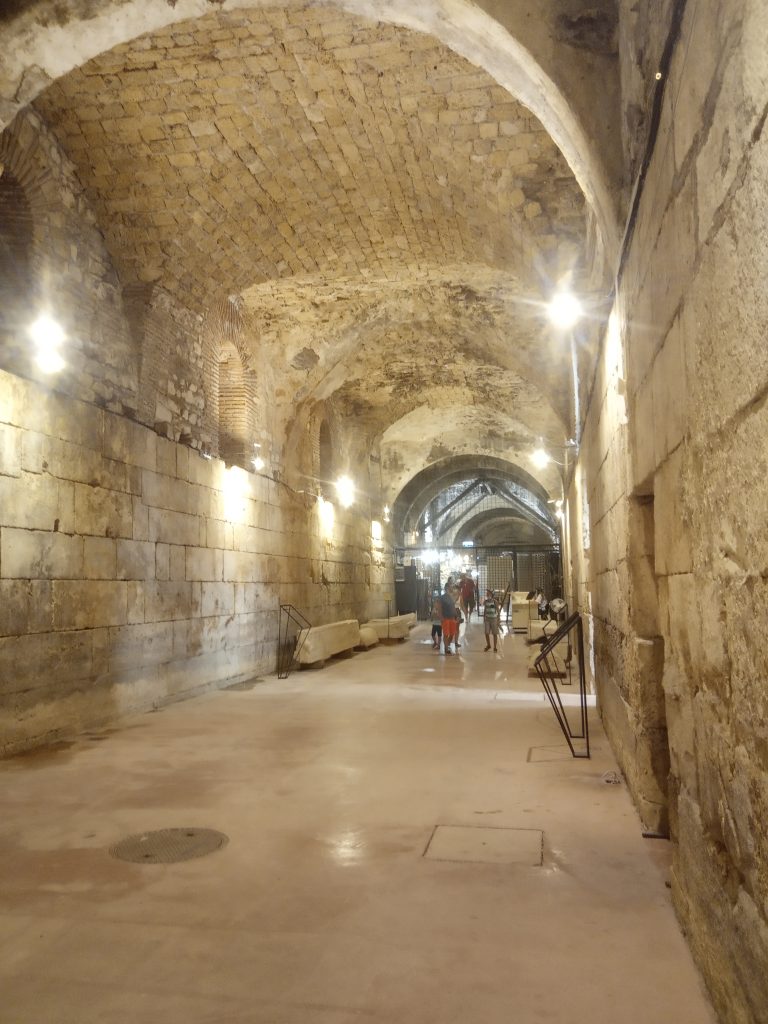 After a tour of these areas, you can follow further through the tangle of stalls to Peristilwhich is an ancient colonnade. On it you will see a statue of a sphinx and behind it Zvonik svetoga Duje (bell tower). Next to the bell tower there is Katedrala Sv. Dujma and next to the cathedral you can reach the Ethnographic Museum. In this museum antiquity and Romans alternate, a look into the daily life of Dalmatians. Admission is very acceptable. The museum has a pleasant atmosphere and will surely be appreciated by every ethnography fan.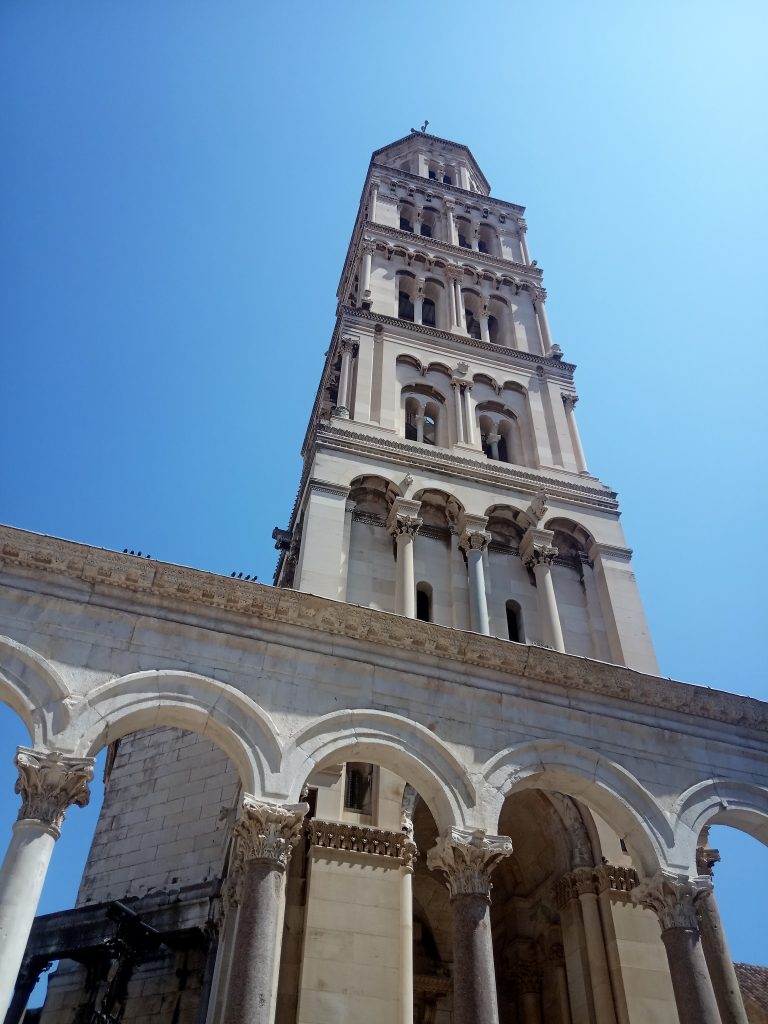 This place is amazing mainly in that you can kill all day in such a small space, because you still have something to watch. You will also be entertained by the "gladiators" with whom you can take pictures if they are just having coffee. It is also worth mentioning the uncovered Roman mosaic, which looks like it was just laid. There are more such examples of mosaics. The whole complex also includes Porta argentea Srebrena vrata (silver gate). When you go out, you will find a smaller market with everything tourists want.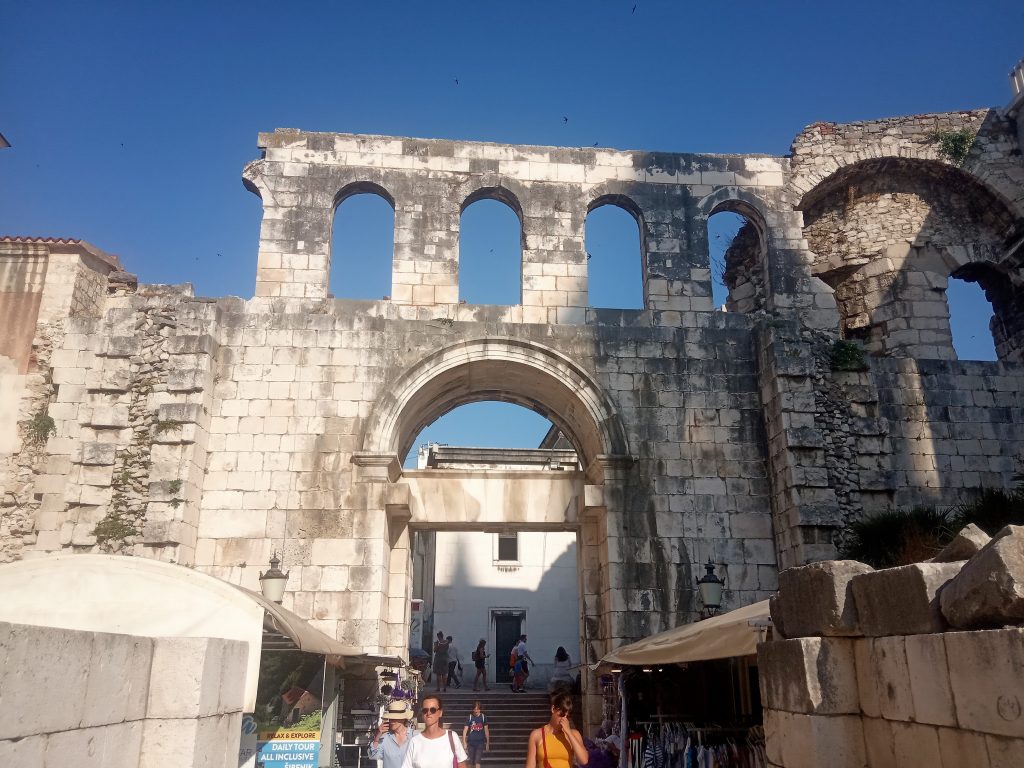 I must not forget Jupiterov hram, which is also called Krstionica Sv. Ivana. The interior is more modest to decorate, there is a statue. In addition to the silver gate on the other sides of the centre, there is Porta aurea = Zlatna vrata (golden gate) and Porta ferea Željezna vrata (iron gate). Museum fans will get their money's worth. You will also find The town museum and Game of Thrones museum. If you go through the whole center, go out through the Golden Gate, you will come across an art gallery and a small park with a bell tower and a chapelZvonik i kapelica Svetog Arnira). The Iron Gate will take you to Narodni trg = Pjaca (People´s square), where Stara gradska vijećnica (Old town hall) is sure to attract your attention. They have great ice cream here. Historic buildings are still in progress.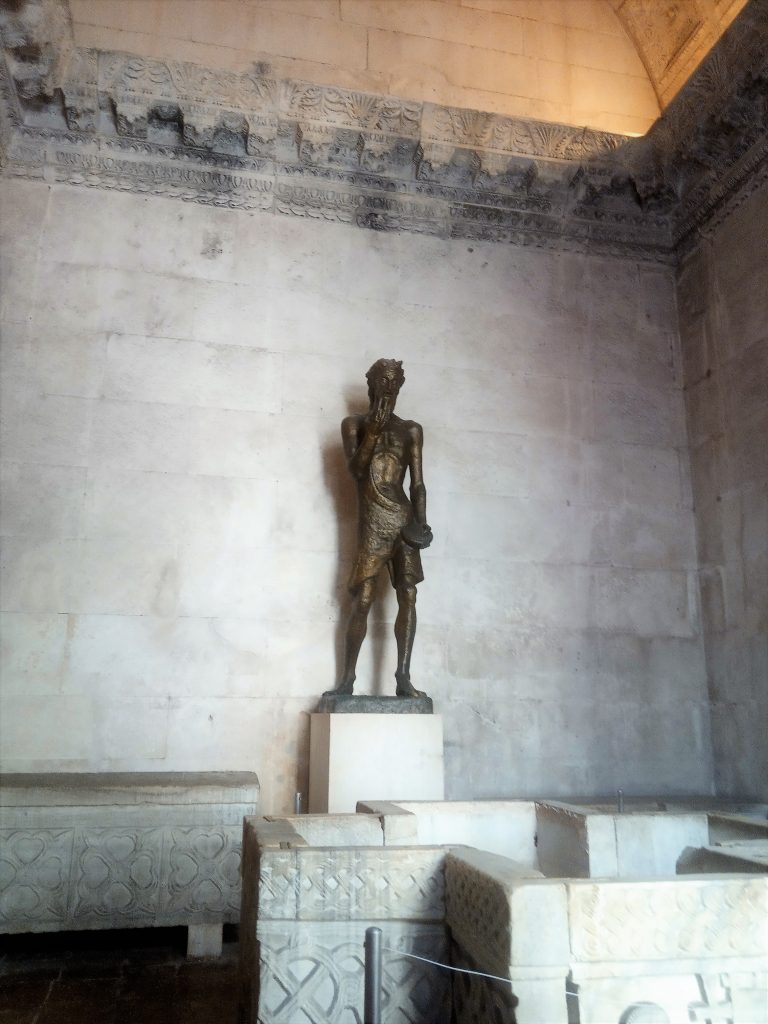 Continuing to the right Trg Franje Tuđmana (F. Tudman Square) you will find with Crkva i samostan sv. Frane (Church and monastery). Split also has its own city park - Marjan offers a great rest during hot summer days. I highly recommend it to cycling lovers. If you feel too warm here, you can jump into the sea. The modern city continues behind Marjan, which is no longer so interesting for tourists.
However, after a rich dose of museums and history, you can't forget the most important museum in this city. Split is primarily a city of sailors. It would be a mistake if you missed Hrvatski pomorski muzej (Naval Museum) at Gripe Fortress. As it is surrounded by a small park on an elevated fortress it took us a while to find the right direction to the entrance. It doesn't look very attractive from the outside. However, the interior will take you through the entire history of the navy to the present and give the layman a very good idea of ​​the naval tradition in this city. This museum is proof that Split is the birthplace of many successful sailors.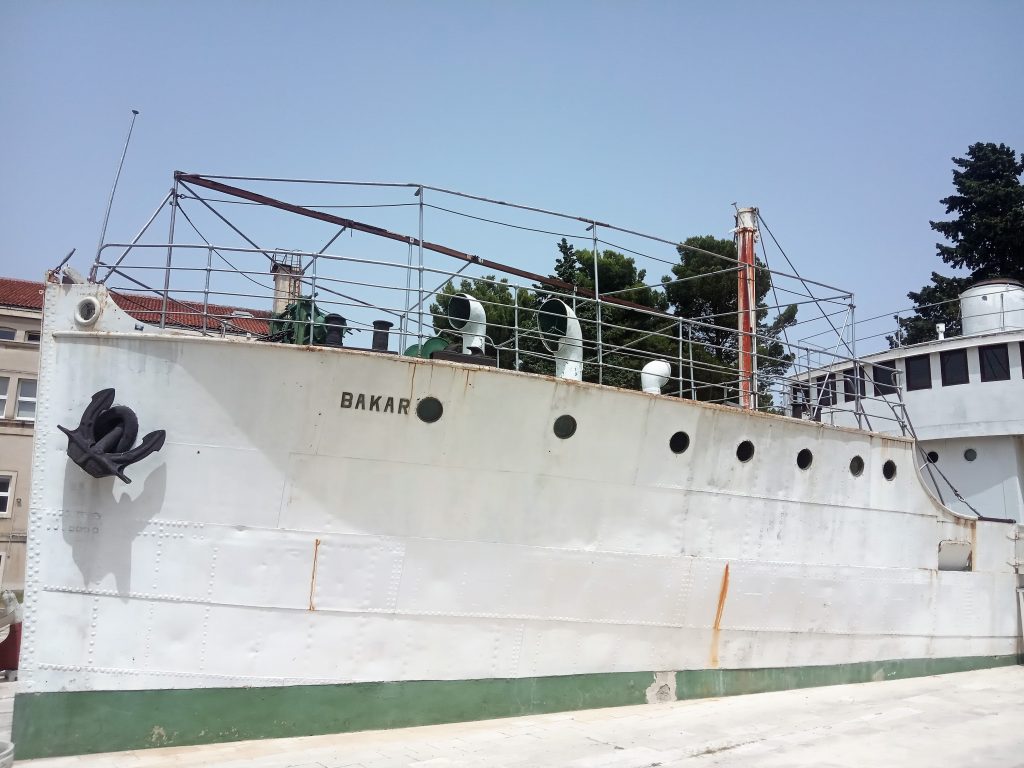 Of course, every hard day, thanks to which we expanded our knowledge of this city, ended after a great lunch on the beach. Bačvice never disappoint and are always full of life at any hour you choose there.
The people of Split say that Split is no longer as it used to be. He lost his charm and was replaced by superficiality and consumption. I admit this aspect of the development of this city is noticeable, but nevertheless with its historical and cultural wealth it still surpasses other localities. These 2 aspects were also confirmed by Anna, our housewife, who was already of mature age, but spoke excellent English. Of course, when she had the opportunity to speak in her mother tongue, it was again a typical talkative Croat who told us about her problems with galeb(seagulls), stealing pomodorins from gardens. Galeb ((seagulls) is a typical symbol of this city and their screams will accompany you every moment and everywhere in the city.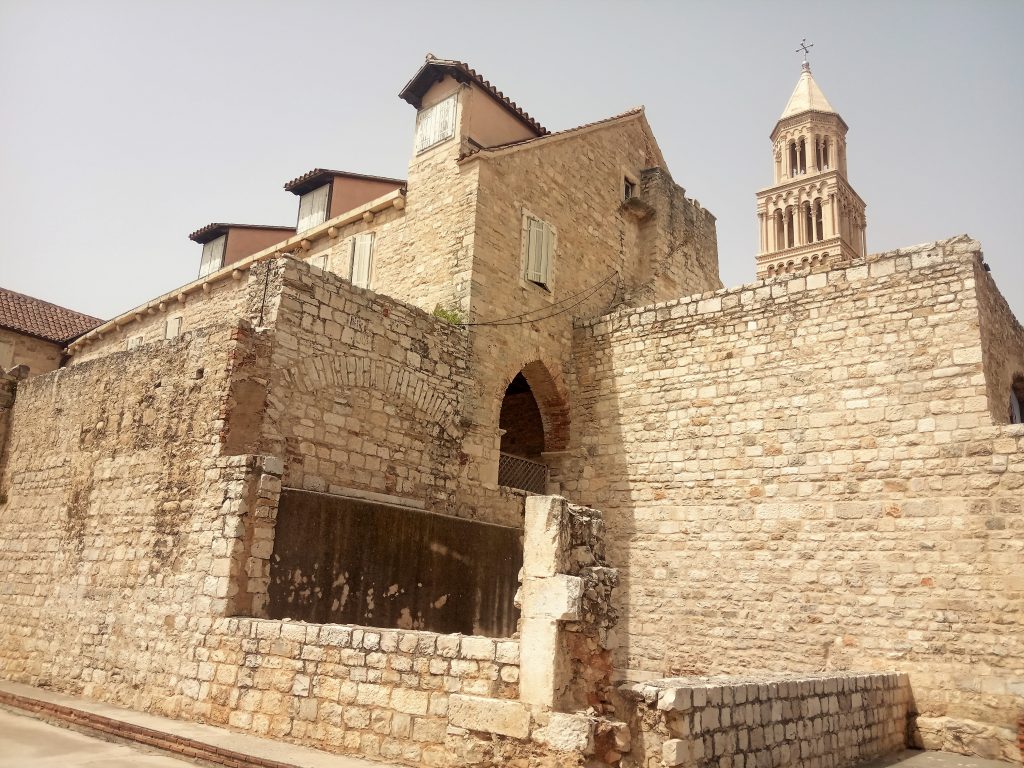 Lovers of history and ethnography will not be able to get enough here. You can hang out around Split and explore all around. You can walk around the Peristil a hundred times and still always come to it with glowing eyes. The Diocletian's Palace will pass by an ignorant man in a moment, but if you want to examine it in detail, set aside a few hours for it, maybe a whole day. And when you finally look at it all, the next day you say "Ajmo još jednom" (let's go one more time)...and you won't be bored at all. On the way, have a coffee or juice, you can buy some lavender sachets and again to the cathedral or the ruins. If you were very warm, Bačvice would always be sure nearby. You can easily go there in the evening.
Split is an incredible machine that still works full .... It will get you with its atmosphere, cultural and historical heritage and liveliness, which is characteristic only for it. Let yourself be captivated and you can exchange small quiet resorts for something livelier sometimes. It will probably cost a little more money, but every Croatian fan should taste his taste at least once in their lives. It is not for nothing that Diocletian built a palace right here.