Budva Impression
Biser Jadrana (pearl of Adriatic)1 is the denomination of Dubrovnik, perla dell´Adriatico (pearl of Adriatic)2 is Italian Venice called. Montenegrin pearl is certainly Budva - in the middle of Montenegrin seashore. This town has all attributes to be called a pearl.
If you are interested in Budva, have any questions or you want to share your experience, you will find us here.
Returning there was my plan a long time ago. My last stay in this town lasted only a few hours and it was already clear to me that I had to visit it again. Therefore, the decision to spend a few free summer days there was very easy.
Different airlines offer flights to Montenegro at very competitive prices , so we also used this way of transportation. Budva is about 1.5 hours by car from Podgorica Airport. After few minutes we were already taking a taxi at the airport with lovely taxi driver Arijana.
Our entire journey up to Budva led through the woods. Previously I did not realize that Montenegro is almost all mountainous. Listening to Arijana's life story, I waited with excitement for the mountains to end, because there is certainly a sea at the end.
After 1.5 hours we peeked out of the tunnel and before us, the sea appeared and below us the city. Immediately, Arijana understood the situation and asked, " Hoćete li sliku?"3 It would be a sin not to see that view. We took a picture of it, but you have to see it live. The photo is just like a thousands of other photos. It took a long time before we went down to the sea. The traffic situation also contributed to this. In the middle of the season you can feel the onslaught in seaside towns.
We evaluated the first moments in Budva very positively. We slowly rolled through a lot of cars on the main road towards the center, where should be our accommodation - Vila Lara. Arijana stopped us a little while away. It looked very busy around.
We got out of the cab and slowly walked toward the small alley. Around us there were great modern buildings such as Ducley resort as well as typical Mediterranean villas. I wasn't able to wonder how the city was modernized.Gospoština street was already calmer and quieter. On the other hand, it was connected to the city center by a few steps. So basically in a few minutes we were in the center.
We were standing in front of the villa and ringing the bell. But no one opened. After a subsequent call, an old gentleman appeared in the gate with a nice smile and a typical "Dobrodošli, Dobar dan." (Welcome, Hello)4 Simo was bit confused from mixture of languages, but I assured him "Možemo razgovarati na vašem jazyku" (We can speak your language)5The smile on his face doubled and led us happily to our apartment located on the 2nd floor. He briefly gave us a few more instructions to stay and let us enjoy it. It was equipped with everything you need on holiday. It also had a small balcony overlooking the city.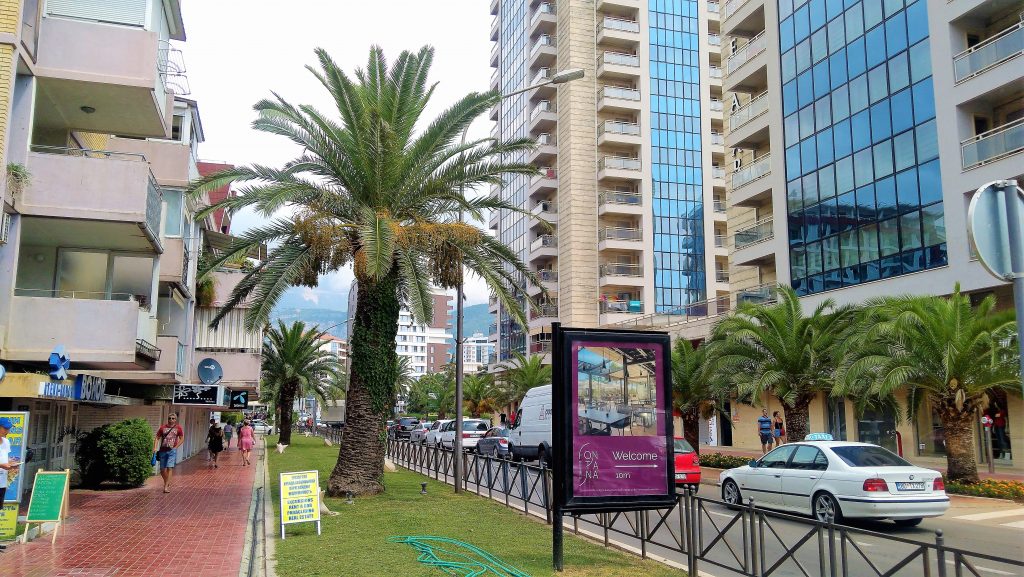 We haven't stayed there long, because we were most attracted by the city.Simo also showed us where we can find the most necessary things like market, sea, city center and restaurants. His "tamo dolje"6 (there) was enough in this case, because it was all in one direction. The shortest way through the neighboring steps in 3 minutes reached the promenade, which is very lively both during the day and at night. In parallel with the promenade leads a path just by the sea. Just outside the old town is a small port for local boats. Many boats7carried a sign of taxi or izlet (trips). The whole area offers a wide selection of restaurants, bars and other attractions.
Short walk in the luka (port)8 leads further to Slovenska plaža (beach). It is the largest beach in the city and probably the most mentioned in connection with Montenegro. It is followed by other beaches such as (http://a-trips.sk/plaze/) Bečići beach. Other beaches are less busy. The Slovenska plaža is very busy. This city basically never sleeps during the summer. Airborne scents from nearby restaurants that attract and challenge you with the difficult question of "koju izabrati?" (how to choose?)9.
We haven't wandered for a long time because hunger has overcame us. We wandered to the Kralj restaurant and finally we ate a dinner after whole day. There is nothing better then fish just caught from the sea. Our eyes were always wandering around and we were always disturbed by something. The first impression was great. City was full of life, the sea clear, weather beautiful, mountains around us, nice accommodation, tasty meal... Paradise on earth.
The next day we went to the old town to explore a little history. Our steps headed right to the city walls. Through several gates you can get directly to the old town. In addition to typical architecture, you will also find the town museum, which will allow you to penetrate the history of the city. We were there in the evening when the city came to life. Visiting the museum does not take more than an hour and is very nice.
The symbol of the city is the local citadel. It is located on the corner of old town, it's basically a fortification. Here I am always impressed by the local library. I would like to have all her books at home. We swallowed the whole sweat on its walls, where we wanted to refresh ourselves for a while with a pleasant wind. From the walls there is a beautiful view of the open Adriatic. We also lost sight of the restaurant located in the citadel, but with tongues out we got out of it. In the citadel there is a library in 2 rooms and walls with a nice view. The tour takes no more than half an hour.
On the left side of the exit from the citadel there is a small church Crkva Svete Trojice, where the mass was held during our visit and we did not want to look into it. However, it has a beautiful picture above the entrance. Another dominant feature of Budva is the St. Ivan Cathedral with its bell tower, which is also open to the public. It is rather a modest cathedral.
We didn't stay long in the old town because of the hot weather. We visited it later several times in the evening. Another big attraction of Budva are the local beaches, which are great and each of them will certainly choose the most suitable for themselves. There we were heading. You can read about this in another article. Budva makes many trips. In the evening Budva turns into a place of entertainment. In the city center there is a cultural programconsisting of theater plays on the stage near the old town as well as a music program..
Budva is rightly called Dubrovnik of Montenegro . As I wrote earlier Montenegro is very positive, I still insist. Budva just confirms it. Prices at this most expensive Montenegrin site are affordable. The atmosphere is great. A wide selection of accommodation facilities, restaurants, beaches... A modest client as well as a very demanding client will leave this place very satisfied. Young people will have plenty of fun. Older tourists with their grandchildren will also relax here. The alleys above the main promenade are small and uphill, giving them silence and almost no traffic.
Budva is a perfect place for a summer holiday.Anyone who visits it will certainly remember her for a long time. Montenegro itself can compete with Croatiaif it does not surpass it at all. It has its atmosphere and enriches every visitor with a lot of experiences. Choosing the right program will not take long. The selection is just right. The only thing I find not very good is that Slovak travel agencies provide accommodation in not so good parts and do not include comprehensive services that are very easy to get with a little search. May every holiday-eager person have the opportunity to visit Budva in Montenegro at least once in their lives.
1 Pearl of Adriatic
2 Pearl of Adriatic
3 Do you want to take a photo?
4 Welcome, good afternoon
5 We can speak your language
6 There down the road
7 Trips
8 Port
9 How to choose?