At 6:15 a.m. as every morning, we were woken up by muesin. The light from the minaret was reflected on the roof covered with white duvet. "Snijeg, snijeg !!!!" (snow, snow) I cried excitedly. What would the mountains be and a visit to the Winter Olympics city in December without snow ?! After a while we were all excited about jumping out of bed for the last day in this town, which was supposed to be a winter sports celebration.
If you are interested in Sarajevo, have any questions or you want to share your experience, you will find us here.
One of the closest locations is the Trebević mountain,where the cable car runs.Here is a bobsleigh track. Other habitats are in the Jahorina mountains, ski jumps on Igman and Bjelašnica. Later we learned that these places are a little further and unfortunately we did not manage to visit them.
After waking up, our steps led us immediately to Trebević and its cable car. Sarajevo Žičara (cable car) has a boarding point about 200 m from the town hall. We were already running out of the hotel, enjoying the snow and sweeping around the parked cars to be in the mountains as soon as possible. On the way to žičara we discovered Sarajevska pivara (brewery) and another beautiful cathedral tucked between houses. How good we turned in the wrong direction. Our turn slowed us down by about half an hour, but we were grateful for it.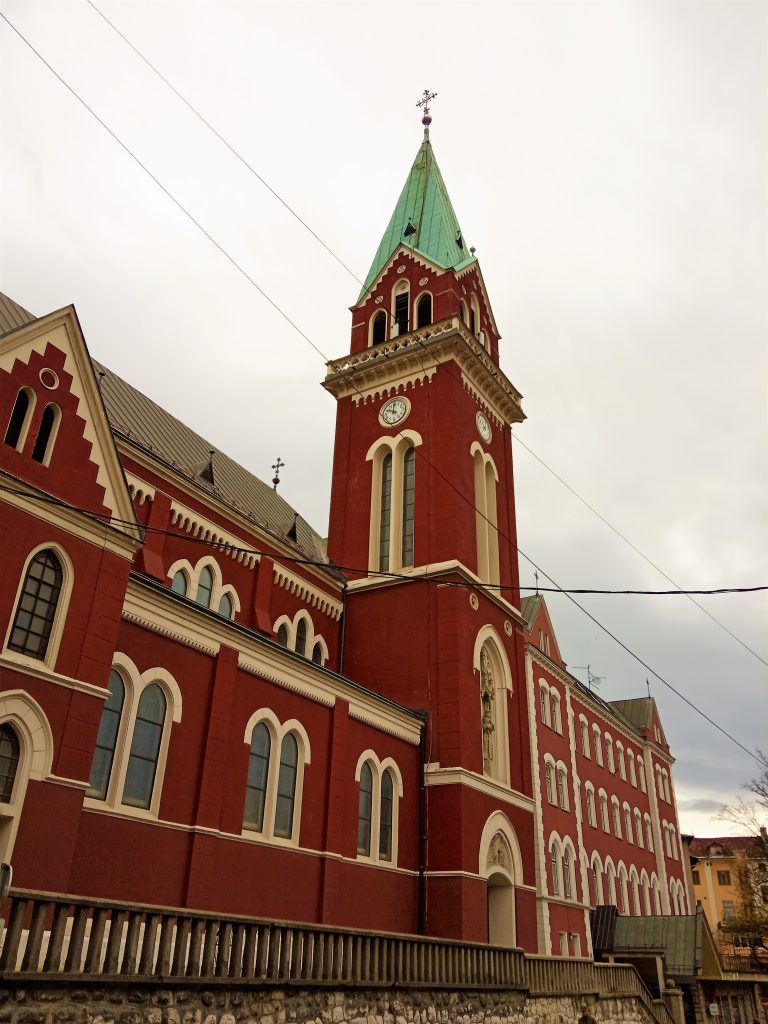 Then we carefully watched in a small aisle a table of micro size with the inscription Žičara. To get to it, you have to cross several steps. There aren't many steps there, it is not necessary to have pause, but I suggest you do it and turn around. The whole Sarajevo begins to expose you. The cablecar itself is recently opened. Be careful, however, that you do not end up in such a way that the cable car will not operate. Always the most considered is the weather on top. The return ticket costs 10 €. The cable car runs in the winter season until 16:30. It goes without stopping, so don't worry about getting into it.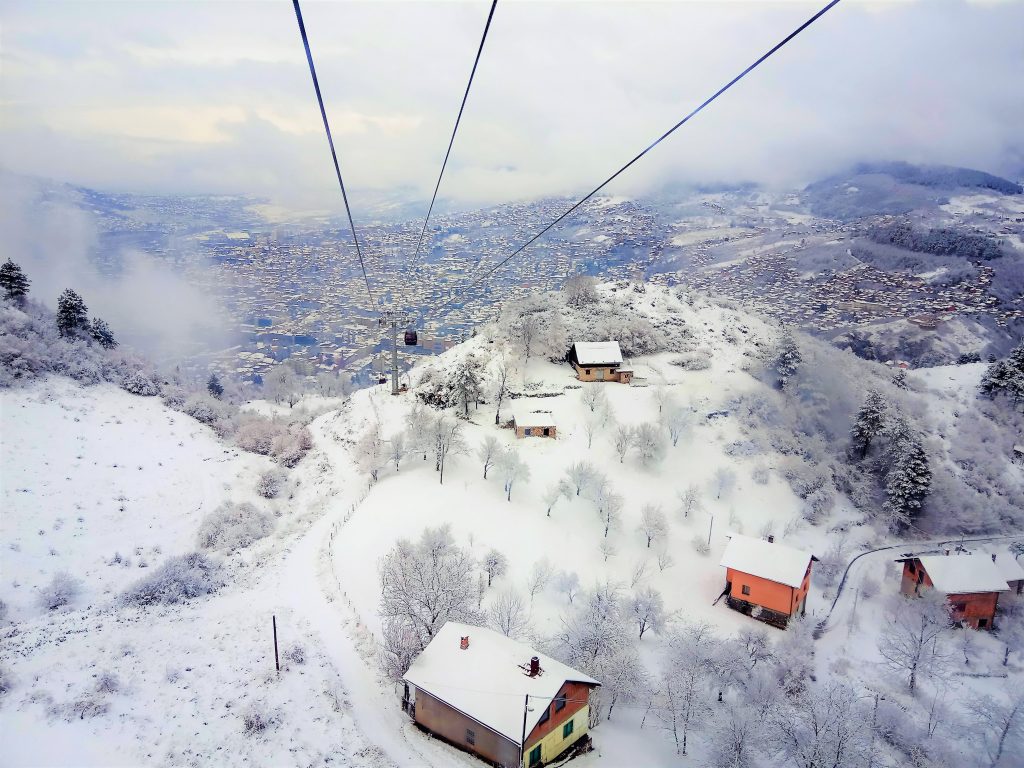 We staggered up the stairs to the floor to enter our cable car. At the entrance we were welcomed by the cabin of the old cable car. Quick photo pause and we jumped into the cabin. The engine sound was silent for a moment, and we began to climb. The platform gradually began to move away, the city was uncovering and the houses below were shrinking. Only here in the cable car we realized Sarajevo is basically one big village. Nowhere we have never seen any estates similar to ours. This part of the city is almost all full of small beautiful houses. The houses are scattered around the surrounding mountains.They give the city a very homely atmosphere. We were surprised to see how far the houses were and how local cars had to be equipped to get here in the winter.
The same is true of the big boulevards. All the main roads are centered around the river. From them, only perpendicular streets lead to the mountains from each side. These streets are powered by small streets, sometimes paths that end up somewhere in the woods. Large village in the valley of the river Miljacka. This is Sarajevo. Its picturesque character basically does not disturb anything.
Žičara took us about 10 minutes. We got off in a very similar building to the one we got in. Right at the exit we were exposed to old skis, sledges and other small items. There is also a small bar with beautiful mountain views. When we saw the view, we flocked out. Bosnian "winter lady from fairytale" was at work all night. We got into a fairy tale. The most beautiful fact was that the whole place is not disturbed by commercial life style, but is really only in the power of nature. Snow was thrown from the cable car to the nearest larger area where the map was located.
Here we found a few view points and the famous Olympic bobsleigh track.We chose first the direction of view points. A walk in the forest with a beautiful view could not be refused. However, we did not go far, as there was no sign at the nearest intersection. So we went back to the starting point.
Our next goal was a bobsleigh track. We found it stuck by the road. Unfortunately, it was not specially marked. Be careful not to miss it. Unfortunately, the bobsleigh track is decorated with graphite from the inside, with traces of shots on the outside. We met a group of cheerful Spanish young men and decided to go through it all. It truly runs through beautiful natural scenery and the forest has a different charm in winter. But we were afraid, as there was a grave silence in the forest and we could not find the end. We turned around on the straight which, as we later found out, was the target. The track is approximately 1 km long and it is possible to create several different tracks.
Terrified by the silence, the traces of the animals, and the shots in the distance, we decided to turn just before the finish. We went back to the beginning and judged it best to take a few photos and go back. Sweating, freezing and getting tired we headed to the bar at the cable car. We appreciated the choice of teas, warmth and beautiful views.
On the way down we enjoyed the beautiful views. Of course, there are several tourist routes to Trebević, and there are also cycling routes. Bobsleigh track is used by cyclists as well. The local sports association has earmarked money to clean it and is currently collecting money for its reconstruction.According to experts, it is large interest in its use by different national teams, which even more encourages its reconstruction. We parted with the mountains and descended back into town.
On the way from the cable car, one of the kuća (house) attracted our attention. It was Inat kuća (spite house). This house, today a restaurant, was originally on the other side of the river near the town hall. When it was built in the 19th century, the owner of Inat Kuća disagreed with its sale to the monarchy and did not want to abandon it at any cost, because it was all he owned. With his skill, he made it to the Minister of the Monarchy to dismantle the whole piece of stone by stone and build it on the other side of the river. This has happened and since then Inat kuća stands on the opposite side of the river. Today it houses a traditional Bosnian restaurant.We missed it in the list of places we wanted to visit.
This restaurant is decorated in a period of 19th century style and is a nice illustration of Sarajevo's housing in the past. It is really very nice and breathes history. The Bosanski lonac which I ordered tasted equally amazing. It was a mixture of lamb and veal with vegetables. It was a bit like our goulash. As a dessert was baklava served and to warm up after a cold day quince rakija. Bosnian restaurants still do not contain of non smokers zone, which can be uncomfortable for someone.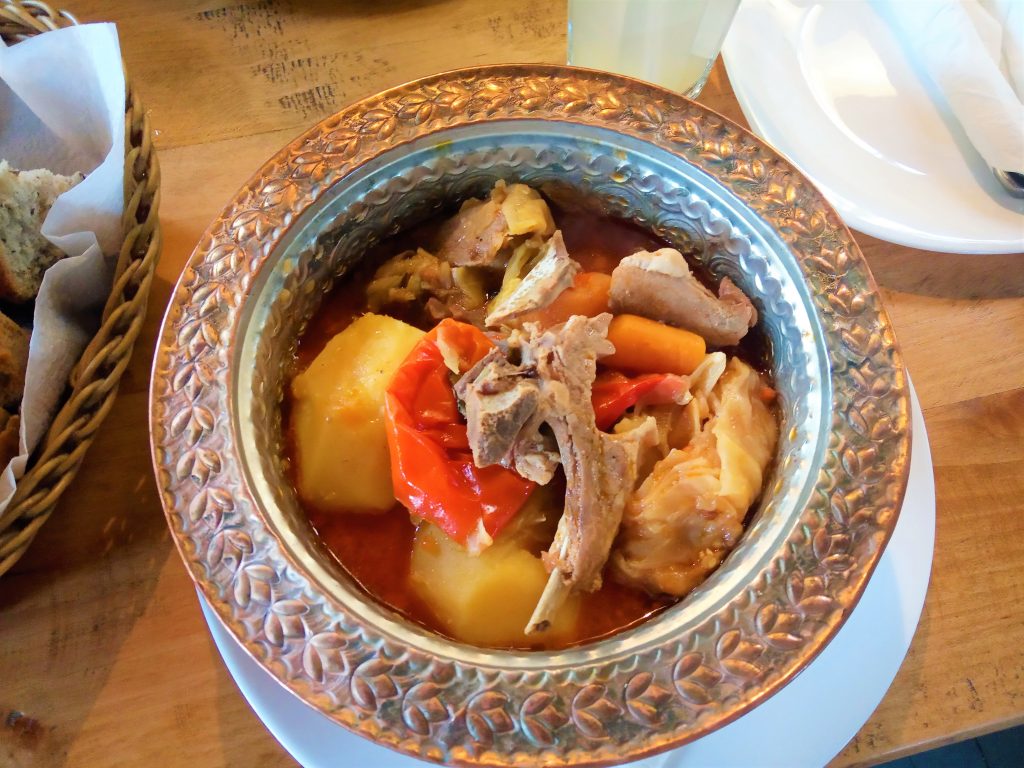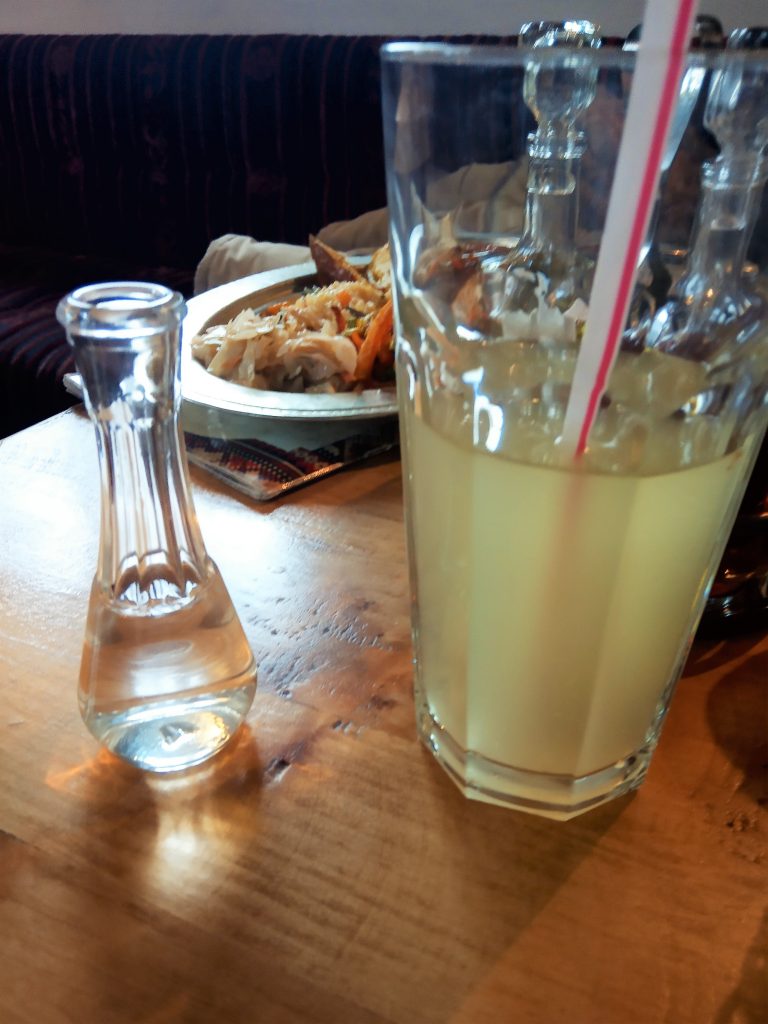 Although we fulfilled our daily plan, we did not want to get to the hotel and just wait for the time of sleep. The last moments in this city we once again sacrificed a walk around Sarači and Ferhadija. However, we still have something left that we haven't tried yet. The scent of coffee poured on us from every side. Now is the right time to taste bosanska kafa! Of course, it had to be from Baščaršija and served with rahatlokum (gelatin sweetness served with coffee). For me, I don't drink coffee, its taste was pleasant.
The coffee done. From a close shop, various fruit in chocolate, tens of centimeters of lokum were calling us and the decision have been drawn to us alluringly. Small shop with kilograms of candies.What our eyes fell on it was on the bill.
The taste for sweets did not leave us even after leaving this small shop. Just at the border of Sarači and Ferhadija is the divine confectionery Badem.Earth paradise of desserts and cakes! I've never seen and eaten such desserts in my life. We also tasted salep (a sweet drink reminiscent of semolina porridge). We had to have a walk later. On the way, we bought a plush Vučko, wandered into a bookstore and ended our walk at Vječna vatra (eternal flame) which symbolically burns on Ferhadija in honor of the victims of World War II.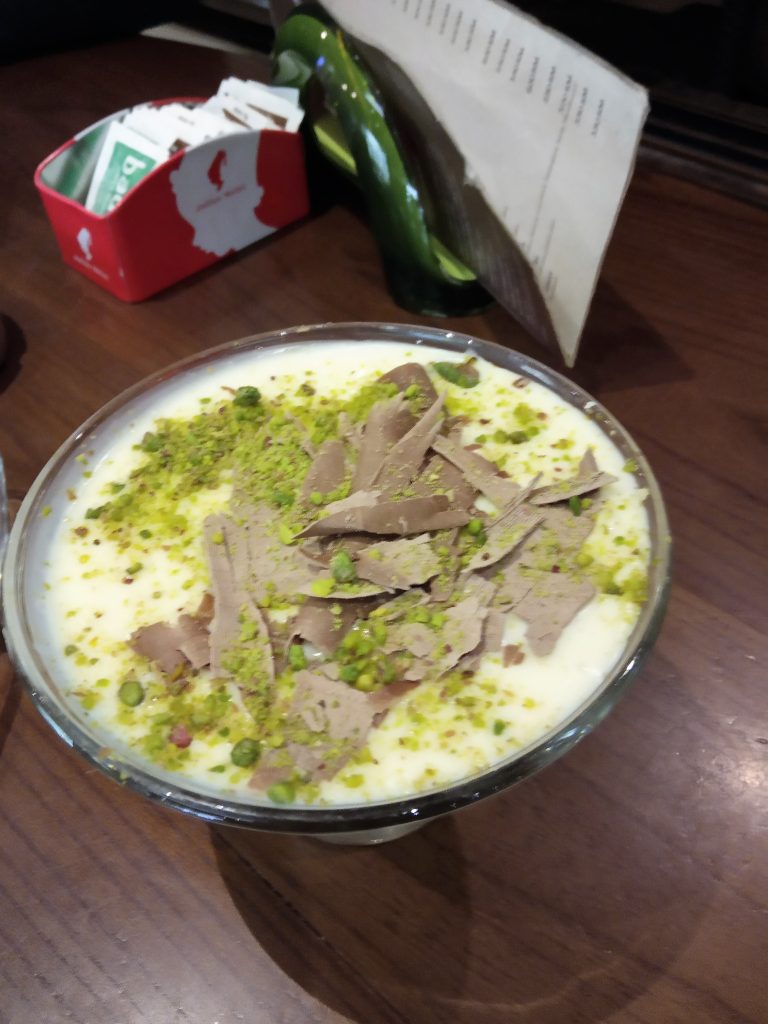 The steps backward were slower, the words passed and the eyes tried to grab as much of this strangely nice city as possible at the last minute. Sadness fell on us the next day looking at Igman from the airport hall. No words left. We only had silent views of the surrounding snow-capped mountains and in the mind of "Dovidjenja Sarajevo, nećemo te zaboraviti!" (See you Sarajevo, we will not forget you!) ... and now Hajde kući (let's go home).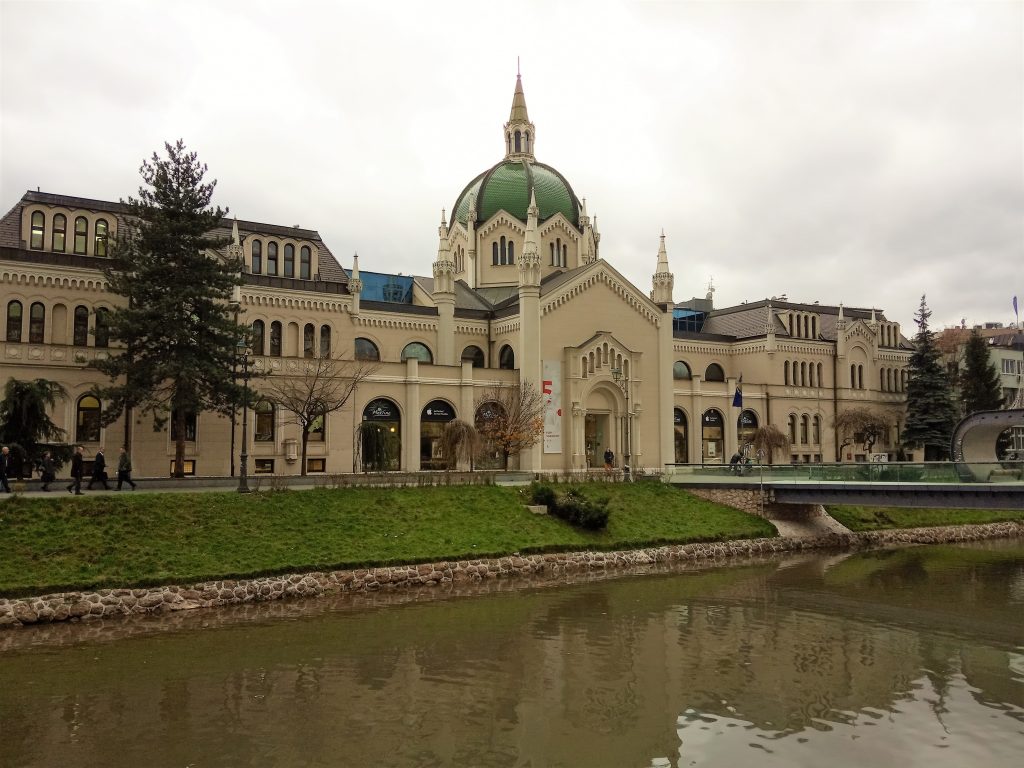 You know, there are places where you say they're nice, others are ugly or less nice. You can describe them in one word. Sarajevo cannot be described. Not even the whole article is enough. I give all honor to Sarajevo for its idea of ​​belonging, equality of cultures,nations and religions. This city has always been a in the past, and for centuries side by side different ethnicities and religions lived in unity.Then one war wanted to change it and deprive it of its specifics. It did not succeed either.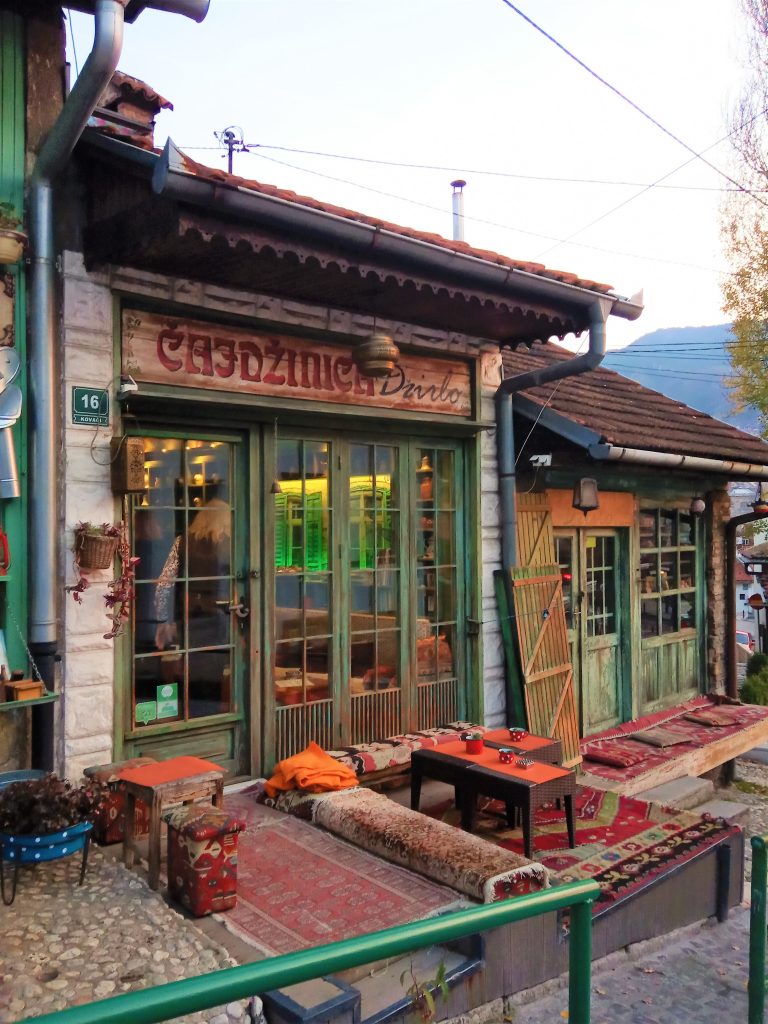 Despite the various reports overwhelming us with the media, Muslims are also just people. Sarajevo is also quite harmless. Do not look at them through your fingers. The same is true of the Jews. Every single citizen of Sarajevo, If he is Croatian, Serbian, Muslim, Bosnian, Turkish, Jew or whatever else, is a small, important piece that, when connected with others, creates Sarajevo without prejudice.
Its atmosphere is hard to imagine by reading books, googling, watching photos. You have to go there, see, experience, feel, hear, taste, smell. Baščaršija is the smell of coffee and veal, the shine of copper jars, the light of colorful lamps, the humble views of Muslim girls in hijabs, and the voice of the muezine. Ferhadija smells of burgers, Vienna butchers, wine and beer, the bells can be heard on it, street lamps are lit on it, under which the aristocracy of the Vienna court has recently passed. Trebević is a quiet retreat in the countryside changing into a place of relaxation, sport and entertainment in summer. Butmir is rural, saddened by what he experienced. Ilidža is a playful, dynamic promise of a good future. Miljacka has been rippling through the valley for centuries and tells the inhabitants of the city stories that only she can remember. She is faithfully accompanied by a rattling color tram day after day.
Our stay in Sarajevo was short and there were places we could not visit. Maybe it'll work out next time. Well, when I get back there again, I hope to find a dead bobsleigh track on Trebević that will serve Bosnian and foreign sport teams. I wish this city to return to its every hill sport and taste of life in the spirit of the Olympic Games. Let the nations come together even more. Make them cook even better than ever, and make people less quiet and still so humble. Let them add new ones to the rattling trams. I hope that Vučko will never take a submachine gun into his hand and never cry again with his survivors. May the city's glories of 1984 be overcome, and Sarajevo will become a show symbol of a multicultural society that can function smoothly.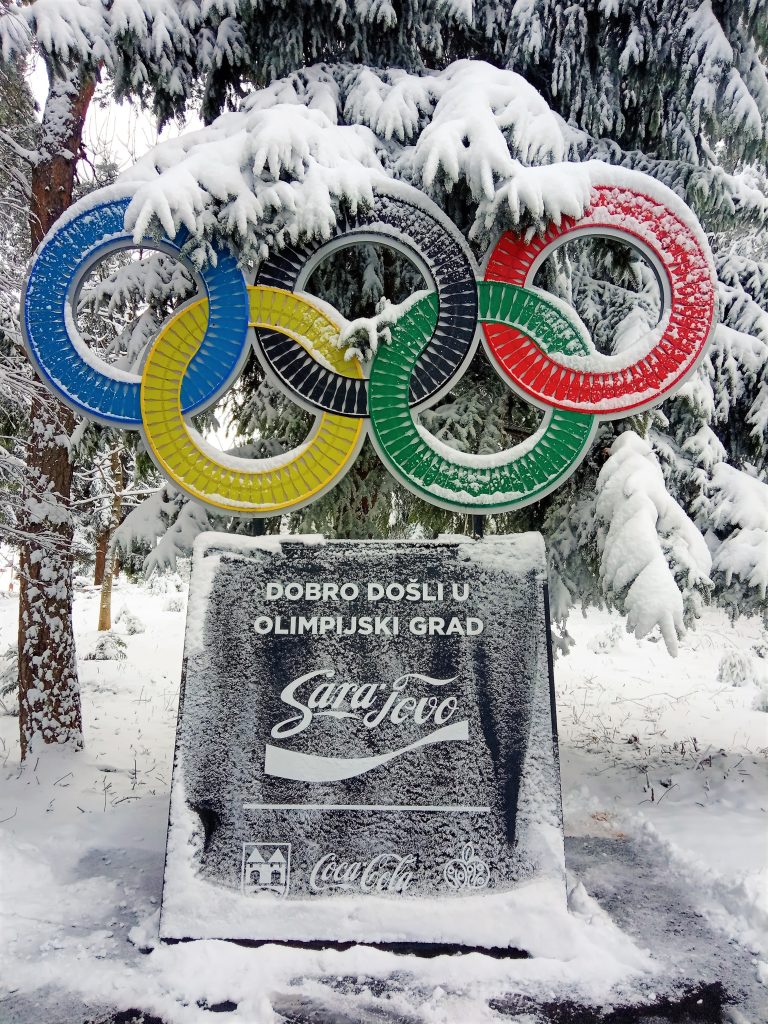 There are experiences in life that can change it all for you. They will give you an imaginary slap and only then you do realize what is really important.To answer this question you will need to book a ticket to Sarajevobecause you will not find it at home.
About Sarajevo you can read also here:
http://a-trips.sk/sarajevo-vuckovo-mesto/
http://a-trips.sk/sarajevo-dan-1/