Day 1
Sarajevo – First day was dedicated to the tour of the city center and maximum saturation of the local atmosphere. Our intake of local culture has already started with the Sheikh Ferah Mosque, peering through the windows. We couldn't go inside, but the exterior was also enough for us. At almost every mosque, we found a small cemetery, a well and a cat.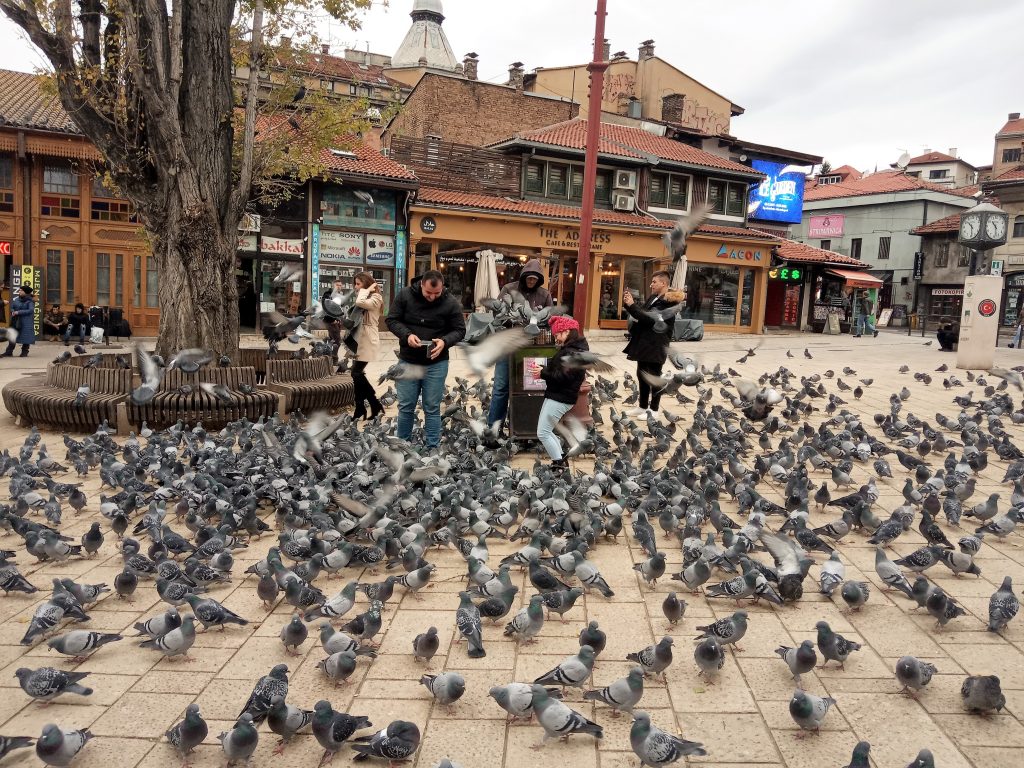 If you are interested in Sarajevo, have any questions or you want to share your experience, you will find us here.
Sarajevo is a place of more specifics. We could call it "grad džamija" "grad mačaka" "grad kahve" "grad različitih kultura" "grad zimskih olimpijskih igra" "Vučkov grad" "ratni grad" (town of mosques, cats, coffee, city of different cultures, Winter Olympics, city of Vučko, war city).
A spotted cat greeted us from the roof at the mosque. We went down the stairs to Kovači street and we were just a short distance from the famous Baščaršija. The path led alongside small typical shops such as bravar and čajdžinica (locksmith, tea room)where I would have spent half of my salary. I didn't even want to go any further. But at the end of the street there was Sebilj - a symbol of the city - a fountain from the Ottoman era, followed by Baščaršijska džamija. This whole part is called Baščaršija - the Ottoman market.
The atmosphere is complemented by shops full of wrought products and Arabic lamps, small dark wood houses, veiled Muslim women, the smell of roasted veal and lamb that spreads from every čevabdžinica (kebab shop)cigarette smoke and genuine Bosnian coffee cooked in džezva and drunken from fildžan. A cold winter breeze added an extra hallmark to this idyll.
Baščaršija crosses several streets like Bravadžiluk, Ćurčiluk, Kundurdžiluk, Kazandžiluk. Each of these streets is a "spectacle". The most famous promenade the Sarači. It is the widest street and it is also a pleasure for all the senses. It led us to the most important Ottoman monument Gazi Husrev begova džamija. This mosque is truly magnificent.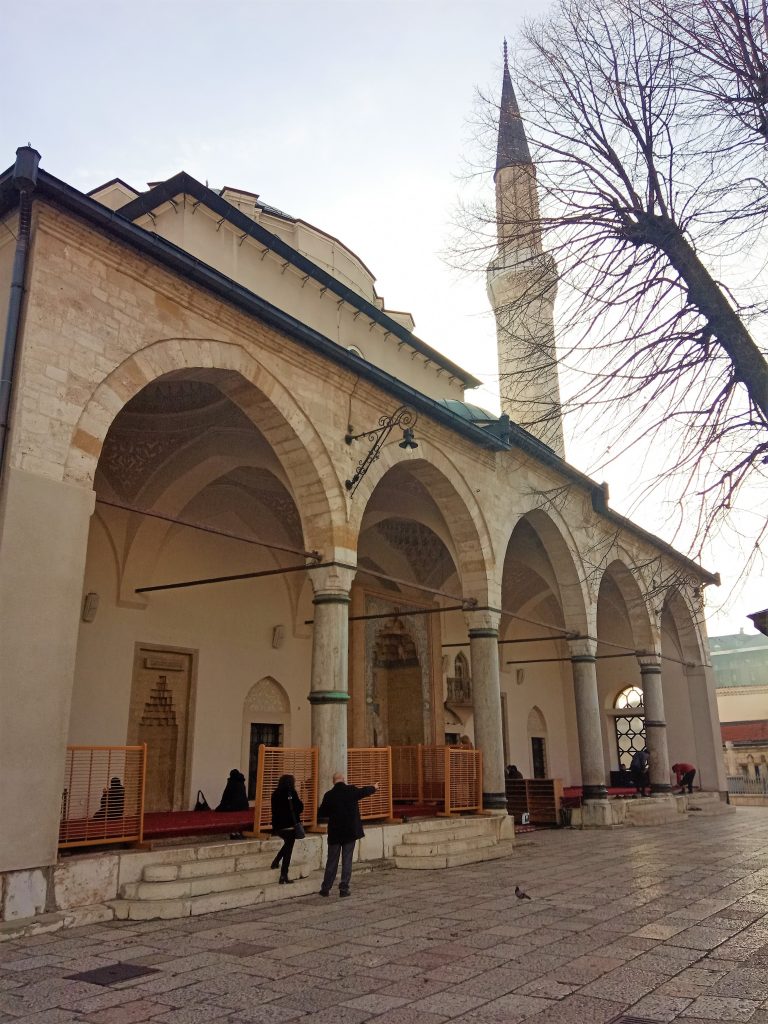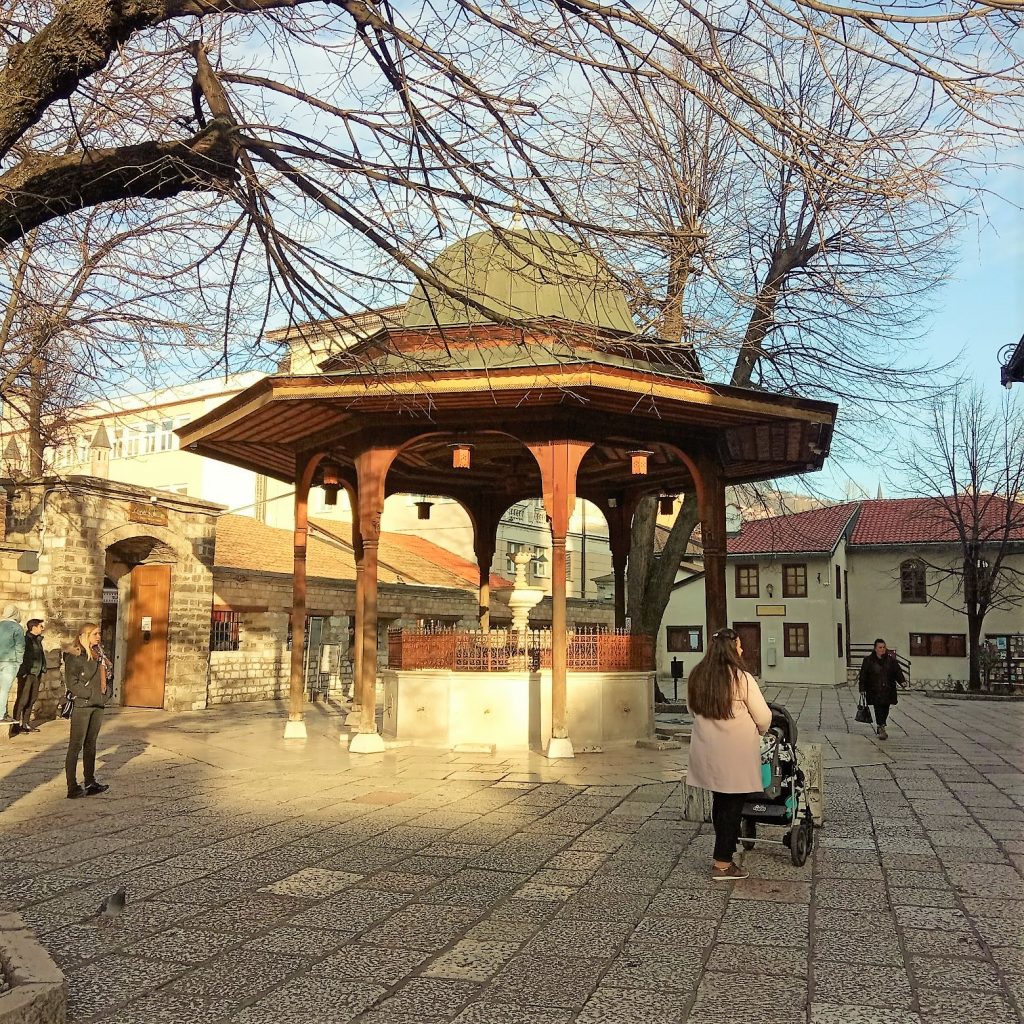 Next to it are also other monuments such as abdesthana, šadrvan, vakuf (place of purification; fountain; building of islamic foundation).On the right, the Kula (tower clock) can beseen from above compared to a museum, a modern library and a medresa (Ottoman school).
A group of men and women prayed in front of the mosque because entry to the mosque was not allowed at this time. All the tourists present respectfully abstained from talking and just watched the events around them. Due to the low temperature the city was quite busy.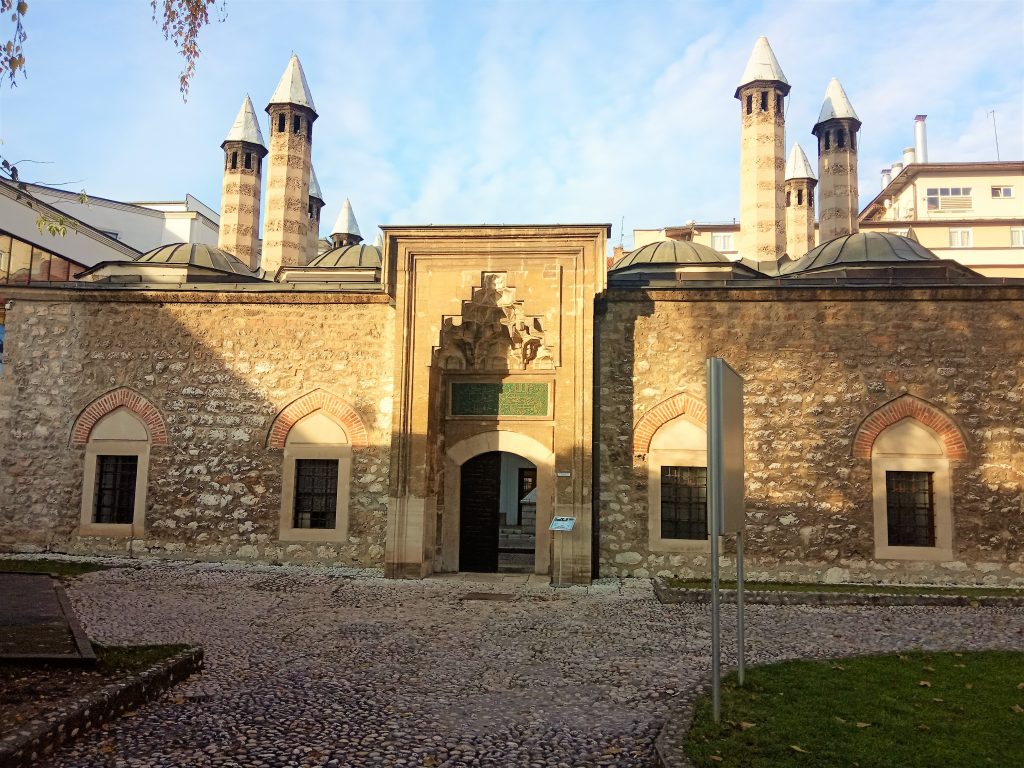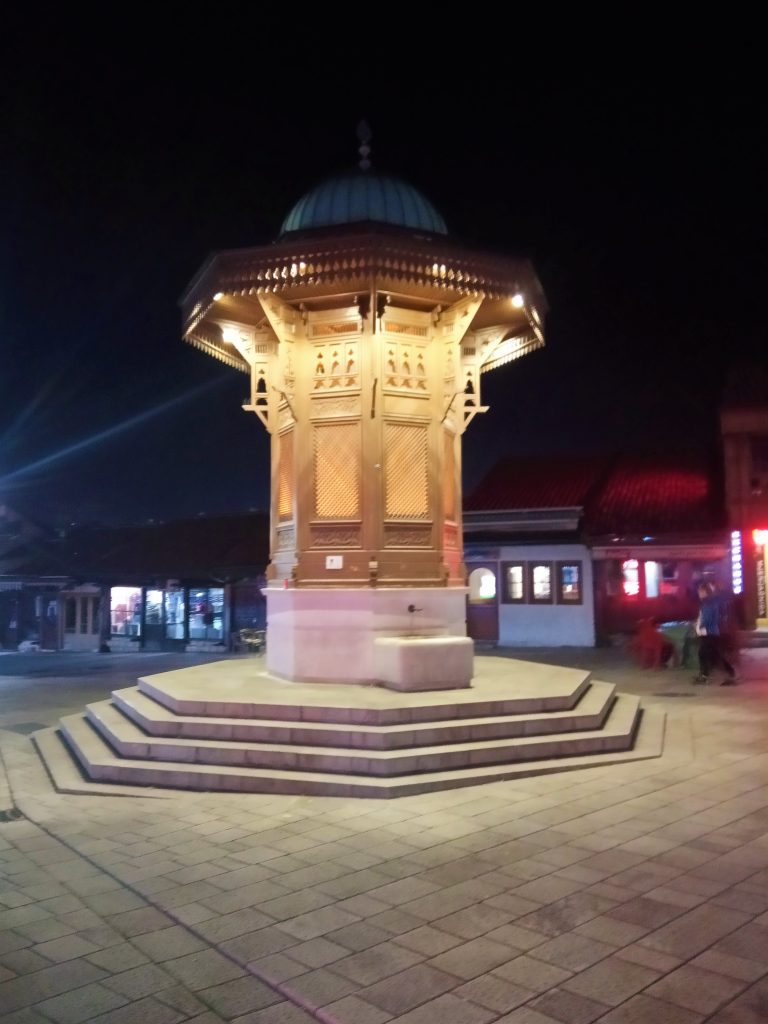 Gazi Husrev was an Ottoman governor who made a big contribution to the development of Sarajevo in every way. A few steps further, we found other buildings that he did. The hanikah (dervish college) and kutubhana (library)are also part of the medresa. The museum and medresa were damaged during the war and reconstructed again. Very kind cash desk officer turned on a video with the history of the city in a small video room for us. Admission to these monuments is really symbolic approx. 4 BAM = € 2.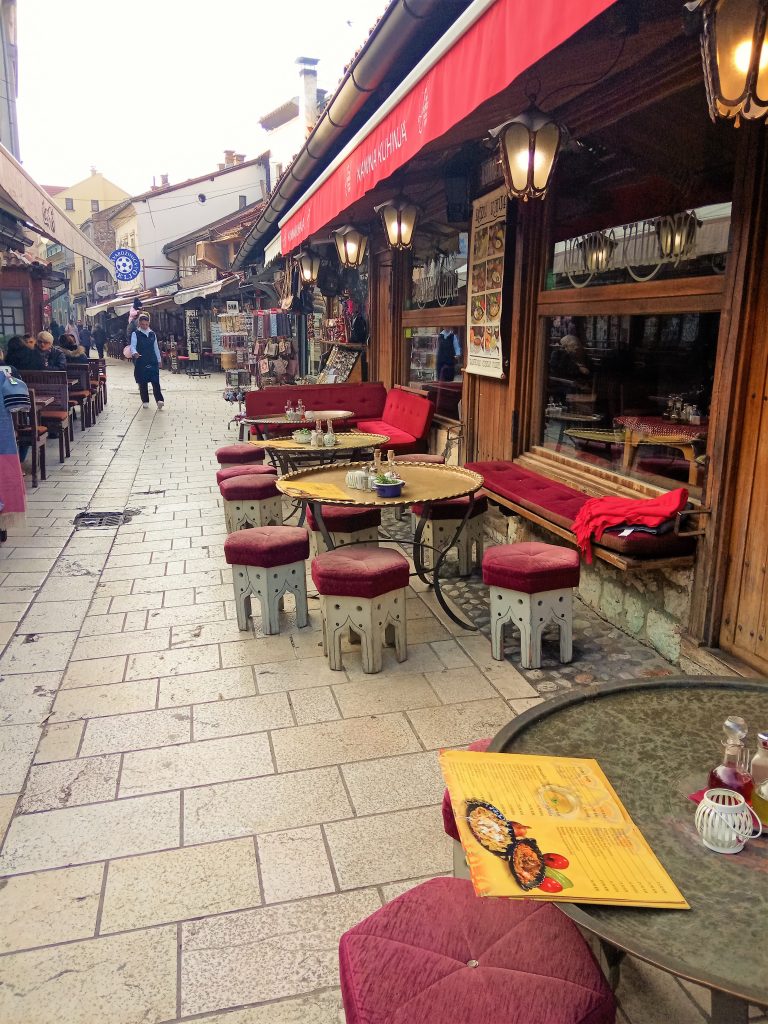 From here few steps you will find another attraction associated with this character - a typical Ottoman market bezistan. It is not big but it has an indescribable atmosphere.
In the so-called Brusa bezistan you can find Sarajevo museum.Unfortunately we have not been able to visit it for shortened opening hours. The first day in Sarajevo we could not spend without tasting local specialties. This time we were so hungry and we did not find typical Bosnian restaurantbut we were tempted by the smell of kebab and we wandered into the Turkish very modern furnished version of the čevabdžinica.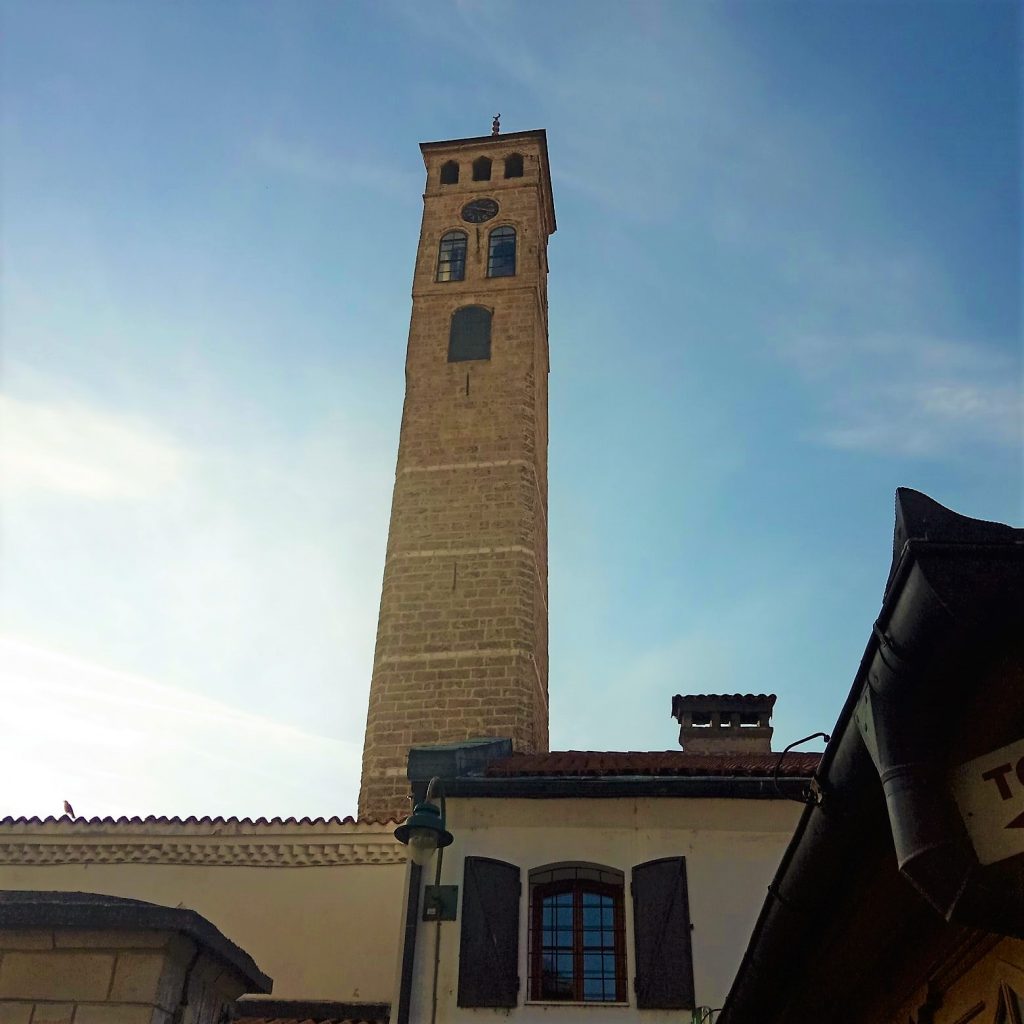 At the entrance Konyali Ahmet Usta we were greeted by a Turkish flag and in the menu a quantity of different types of kebab was found. We didn't understand the Turkish names, but according to the picture it was very easy to choose. It would not be a visit of Turkish restaurant if we didn't have a real Turkish tea and kebab.
So our order was "veliki turski čaj, firin kebab and tavuk kanat". Tavuk kanat were roasted chicken wings with bulgur. The review for this restaurant was excellent and people recommend it as the best Turkish restaurant in town.We didn't even know where our hunger brought us.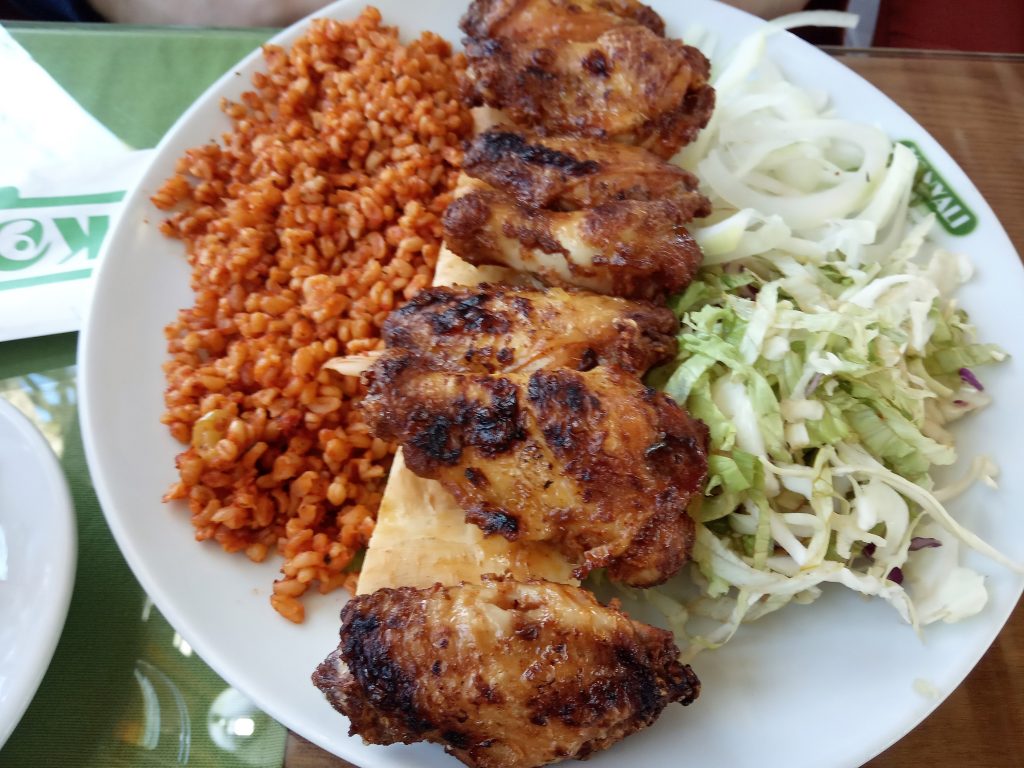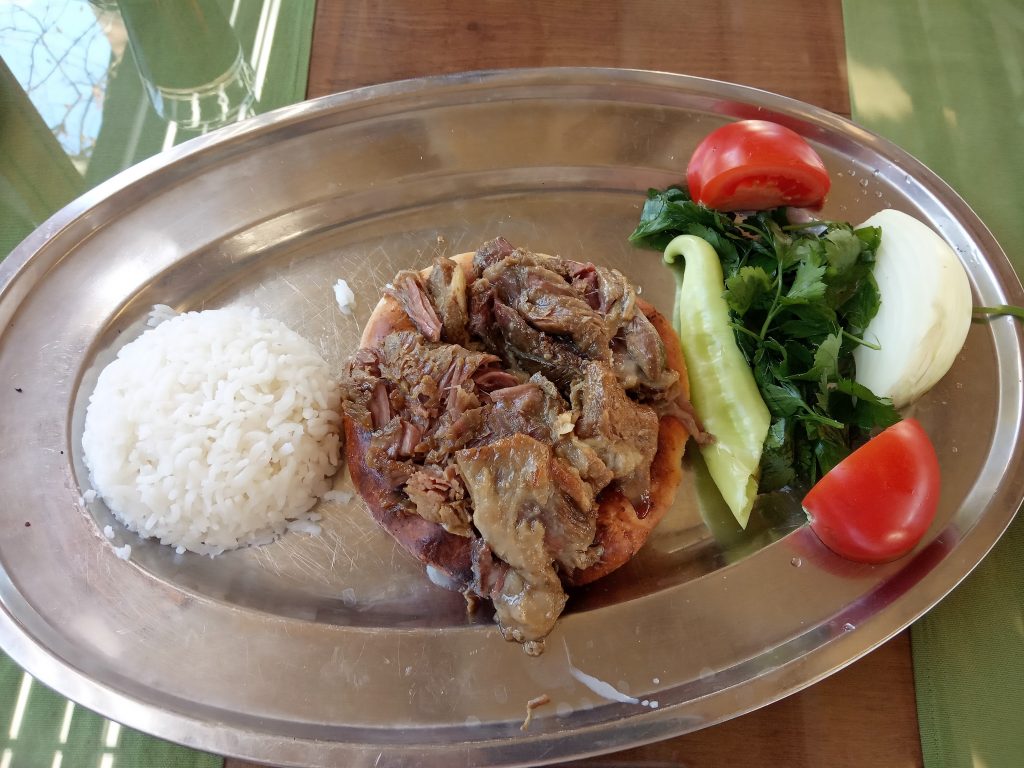 Tired of the cold, but happy with the pleasant day we went up the hill to our small hotel in the evening to be full of energy for exploring this mysterious city the next day. The sun set over Sarajevo, its inhabitants hiding in their modest dwellings scattered around the surrounding hills, and only cold wind rushed through Baščaršija.
Laku noć Sarajevo! (Good night)
http://a-trips.sk/sarajevo-vuckovo-mesto/