Plitvica & Ljubuški Impression
Plitvica and Trebižat near Ljubuški are 2 rivers in the Balkans. Who would not know Plitvice Lakes? Perhaps everyone knows them. Even if he wasn't there personally, Winnetou's silver lake was indeed known to even the greatest opponent of the Indians. On the other hand, few people know about Ljubuški better about Kravica.
If you are interested in Plitvice Lakes and waterfall Kravica, have any questions or you want to share your experience, you can find us also here.
You know it - a typical holiday in Croatia - toplo, sea, lignje, sladoled, kukuruz1. In the evening you can stroll around the resort full of tourists. In addition to the millions of stalls offering everything, full of restaurants, you are sure to stop by the tours of various excursions. This is how a picture of a turquoise-blue lake with the textIzlet – Plitvička jezera" 2.
Of course, as a passionate fan of Winnetou, my fellow travelers citedsome versesand I added Pierre Brice never saw an Indian in life. The tourer took us to the tourist agency, where we signed up for this trip. However, she forgot to tell us that we were going with a bus full of Germans.
In the morning we stood at the bus station and awaited the arrival of the bus, which was supposed to take us directly to Winnetou. A turistički vodič3or rather "vodička", got off the bus and immediately started the conversation with "Guten Tag"4.
From an astonished look, we and two Russians boarded a bus with about 50 Germans. The "vodička" started a several-hours monologue in German about Plitvice Lakes. We haven't heard anything about them, but at least I know I don't want to hear the German language for a long time.
The bus went to the mountains. For about two and a half hours we wandered through the switchbacks, through forests, meadows and fields, so we did not even catch the proximity of the national park. The scenery has not changed dramatically after leaving the coast. The bus stopped at the parking lot, where our eloquent guide had finally finished her monologue (which lasted all the way) with instructions.
Intuitively, we stuck on her so that at least the bus would not leave us and not get lost. Kicks of more and more tourists burst upon us from all sides, so our act of sticking to the guide seemed a very wise solution to us.
We walked through the entrance and headed to the largest lake Kozjakwhere we had a person waiting to take us to the other side. Plitvice Lakes consists of 16 lakes of various sizes 7.2 km long. Water flows from them, creating smaller cascades and waterfalls. The largest - Veliki prštavac has a height of 156 m.
The whole national park is part of the Mala Kapelamountain range. First we went around Prošćansko jezerowhich is located higher, and then we passed Kozjak. In summer it is full of tourists, so you follow the paths by step. The path was stretched by the water in places, then several streams under us, until we finally climbed into the forest and had the opportunity to see
the lakes from above. Then we found ourselves at the top of a cave, in which the"treasure on the silver lake". Nitropan Hawai no longer guarded the treasure there. We reached the lake with the steps. Some people say Plitvice Lakes are nothing special. The scenery is similar to ours, only there are lakes with blue colour. Others are captivated by the clarity of water and all its forms.
The huge disadvantage of this place is tourism,which deprives them of beauty. I do not know how many thousands of tourists turn out here annually, but this number will certainly be high. You do not have much time to enjoy their beauty, because another group is pushing you from behind and you have to hurry to follow yours. Winnetou and Old Shetterhand must also be present. Maybe it wouldn't be bad to visit them in autumn or winter.
On the way back, we tried the local Šljivovica. I had the feeling that for many people tasting was the main reason for the trip. So we stopped at the sredina ičega5 at a wooden booth with hundreds of bottles. German tourists jumped out of the bus as wild and Hrvatska gospođica6 quickly ran out of the booth with glasses. And the fun was taken care of.
The bus unloaded us in the early evening at the same spot where we were picked up in the morning. We were richer in the indescribable feeling that mixed the enthusiasm of seeing this beauty with our own eyes and, on the other hand, the disappointment that it was all sort of quick and cursory. Of course we cannot forget the German language course.
Plitvica created beautiful lakes,but it is necessary to choose a suitable time for their visit. Many accommodation facilities are nearby. Spend at least 1 day to visit them at your own pace. I do not recommend group trips. Summer is also not the best time to visit. Do not dip a finger in lakes that attract their clear water. It is strictly forbidden and you may be fined. They have their charm in every season and are open all year roundtathat you don't have to regret not seeing them. The advantage is that they are 6 hours away. The Tonkavas hid the treasure in a cave above the lake. The lakes themselves are an even greater treasure, which the filmmakers certainly understood when they decided to shoot right here.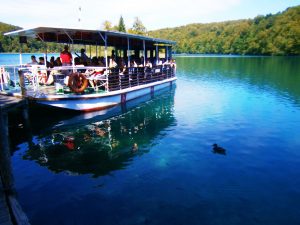 Plitvička jezera of Bosnia Herzegovina are called Kravica which is located near the village of Ljubuski in the south of the country. These are waterfalls on the river Trebizat. They are incomparably smaller, but they are not lagging behind in beauty. It is a treasure known by few. There are no eye-catchers on them, there are 3 rows about them in tourist guides that few willnotice. It is a great pity. To Kravice local rural road leads with minimal traffic. At the end there is also a parking lot and a cash register. The parking lot was almost empty.
A young man collecting parking fees quickly came to us, but the price of parking and admission is symbolic. Dečko7 was willing to keep an eye on the car. Already behind the cash register you can hear the roar of falling water, which will lead you to wooden stairs. An unbelievable look at the breathtaking waterfalls will be seen before you and you will be drawn directly into yourself.
Trebizat is a small inconspicuous river, which is getting more huge in Kravica. The water is as clear and turquoise as that one in Plitvice. There is also a small restaurant on the river bank. In addition, there is a table that warns that bathing is allowed. On the way, we were astonished to a woman in a swimsuit, but after looking at this table, we understood everything.
Kravica is an impressive natural corner. Thanks God, tourism, has not yet penetrated here to such an extent. The locals use it as a swimming pool. The water here is quite cold. It is certainly not suitable for children because of its depth. It is ideal for refreshments for those who like to swim. There is enough space around to spread the blanket or a picnic. Some tourists wander, but it does not disturb the overall well-being.
It is a direct idyllic place to relax in naturewhen you already have enough seawater and is just a jump from the sea. Kravica clearly belongs to one of the key points that add specific impression to the whole Bosnia and Herzegovina. Be sure not to miss it on wanderings in Herzegovina and do not forget to pack a blanket and swimsuit, as we forgot (we later regretted it). You never know when you need them.